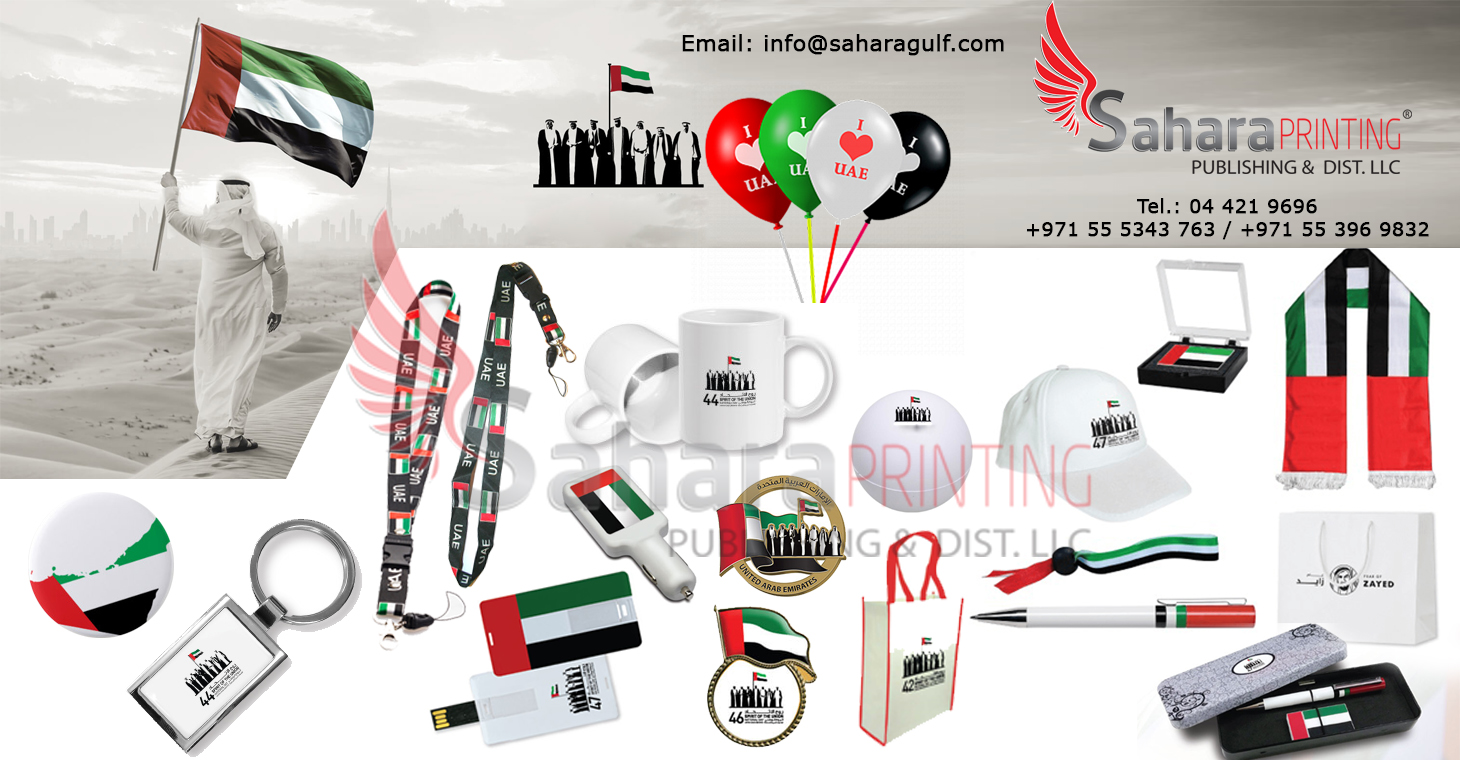 National Day Gift Items
we provide total solution for UAE, Oman, Bahrain & Qatar national day celebration tools, accessories, gift and promotional products, wholesale supplier of cheap give away to enjoy your national day celebration with logo printing, custom design and shapes. If you are looking for national day celebration products and services we are one of the leading factory we design, manufacture and supplier entire promotional items with branding. We are professional team to manufacture national day badges, pin, and labels and give away like:
UAE national day gift, promotional banner, badges, clips, tie pin, button badges, accessories
Usb, power bank, wristband, balloon, plastic and metal pen, magnetic clips, metal coin, award plaque, crystal plaque etc…
National day logo printed t shirts, caps, cotton bag, paper bag, carry bag, gift bag, plastic bag, non woven bag, abaya cover, label, jute bag etc…
National day sticky note pad, stress balls, golf ball, box, gift set, memo pad, recycled material pen, give away for free distribution
National day satin flag, digital printed flag, out door and indoon banner printing
T shirts embroidering logo with national day image
We use fine quality printing machinery, state of the endowment quality branding equipment having 100% in house branding and printing facility for national day gift, promotional and give away items such as:
Direct digital UV printing
Silk screen printing with one color to multi process colors printing
Laser marking / engraving machinery
Indoor and outdoor printing facility
Offset printing
Laser cutting for wedding, invitation, presentation cards, papers etc…
Dye sublimation ink jet printing with 150 c, x any size large format
Heat transfer or heat press machine
Balloon printing machinery with both sides automatic
Mug sublimation and round silk screen printing
National day promotional items printing we manage countries like:
UAE national day
Qatar national day
Bahrain national day
Oman national day
African country national day works
For more information about national day gift items, promotional items supplier and printing inquiry please dial now 0555343763 / 044219696 / 050 9958471 email us saharapp1@gmail.com
.